In this article you will learn:
SAP AIF Interface Monitor features
Managing SAP AIF errors
Reading time: 4 minutes
Introduction
The topic of initial setup or SAP AIF Interface Monitor (/AIF/IFMON) was covered by my colleague Mateusz Nowak in his blog. As a follow up I wanted to give a brief introduction to the SAP AIF Interface Monitor and a few of its features that are easily overlooked. Oftentimes, SAP AIF Interface Monitor feels less useful then SAP AIF Monitoring and Error (/AIF/ERR) handling tool especially when looking for a quick way to troubleshoot an interface problem. However in the long run it may be beneficiary to spend some time familiarizing yourself with SAP AIF Interface Monitor and treat it as your starting point for SAP AIF activities. It helps organize monitoring and error handling process as a whole and better manage day-to-day interface maintenance tasks among team members.
I won't be getting into details on every element of the SAP AIF Interface Monitor, instead I will focus on certain features which usefulness can be easily overlooked.
Dates selection
Calendar with color cues (marking days when error occurred and those error-free) and easy date range selection with select-and-drag feature.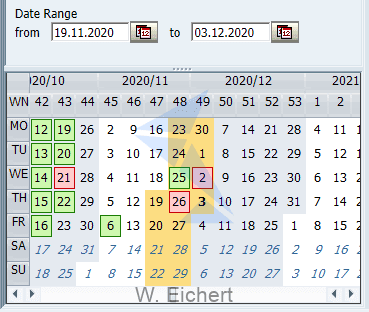 Mail notification management
The Mail icon serves as a button to switch between three different modes of mail notifications for alerts. It can be either "Mail for next alert" (default), "Mail for every single error" or "No mail". Especially the last option may be useful when you set up alerts based on a role shared by multiple users. Thanks to "No mail" some of them may opt out from receiving email notifications.

Message Summary report
"Message Summary" button redirects you to another screen with overview of all log messages. Here at a glance you can see the most frequent errors or search through the log messages. This feature also helps if you need to export error log information for reporting purposes. You also have the option to "Mass Restart" or "Mass Cancel" messages with a given error. Lastly you can assign log messages to users using the "Processors" button (more on that in next paragraph).
Details and Processor Assignment
Here you can assign selected log messages to a user (from users defined as recipients) that will supervise further handling of the given error. To track solution progress you can also set processing status for give messages. This will indicate if someone is already looking into the error, a solution proposal or the final action taken.
My Messages report
The assigned messages are available for quick overview using the "My Messages" button from the SAP AIF Interface Monitor main screen.
Read also:
1. Set up interface in SAP AIF Interface Monitor (/aif/ifmon)
2. /AIF/ERR ? AIF Monitoring and Error handling
3. SAP AIF – How to create Interface Variants