Posting Interface Templates for SAP
OUR SOLUTION FOR POSTING INTERFACE TO IMPLEMENT COMPOSABLE ERP WITH SAP FINANCIAL ACCOUNTING IN S/4HANA OR ECC
At Int4, we pride ourselves in the fact that we have a holistic approach towards providing various range of tools within the SAP integration platforms, which is what inspired the provision of our special posting template that is equipped to provide a dedicated solution to companies that perform operations in multiple non-SAP systems and use SAP Financial Accounting in S/4HANA, SAP ECC or SAP Central Finance.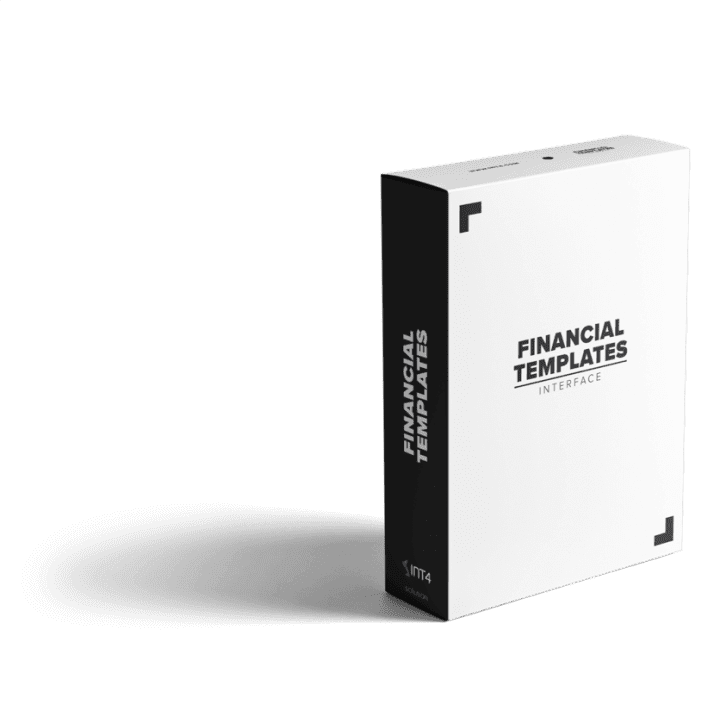 Int4 Posting Templates is a dedicated solution for companies that need to enable composable ERP operations in not only multiple non-SAP systems but also those that make use of SAP Financial Accounting in S/4HANA, SAP ECC or SAP Central Finance.
Int4 Posting Templates is a dedicated solution for companies that perform operations in multiple non-SAP systems and use SAP Financial Accounting in S/4HANA, SAP ECC or SAP Central Finance. It allows to have a central view on all operations and up-to-date financial exposure.
So, what does all of these mean for an SAP technician' —It significantly increases trust in the system and also reduces its complexity. The solution is delivered together with a limited version of Int4 IFTT, our product for test automation. Also, all changes are always and immediately tested for regression.
How does it work?
External systems are connected to an SAP Backend by an SAP PO or other middleware. The data is normalized and sent in a canonical data model through an SAP Backend to the Int4 Posting Templates engine. Int4 Posting Templates identifies the scenario and transforms business operations into valid financial postings based on previously defined business rules. The Scenario determination and enrichment are based on configuration rules known as posting document templates. Int4 Posting Templates can be pictured as an SAP S/4HANA internal integration between FI and other built-in modules like Sales or Material Management.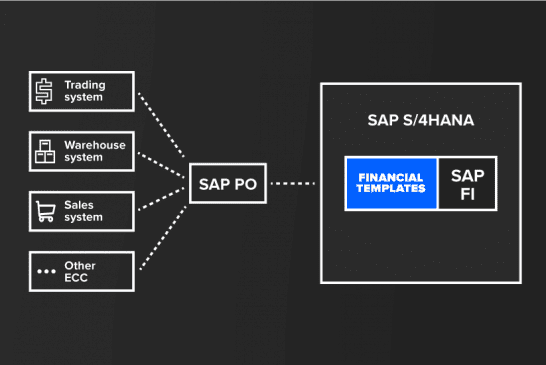 Methodology
Due to the intrinsic nature of our Int4 Posting Templates, it provides for a fitting consulting solution. The pre-delivered content is deployed and adjusted to meet the requirements and customized needs of our clients for a stable, secure and highly flexible platform for building, testing, deploying and managing its solutions, helping it maintain rapid growth in its offerings
Configuration matrix with determination rules and SAP posting logic
Each business operations, like sales invoice or material movement, needs to be transformed into a proper financial posting document. The incoming data needs to be extended with specific settings in the Int4 Posting Templates configuration.
In this process, the credit and debit side of bookings will be built. Additionally, GL and reconciliation accounts will be determined together with splitting attributes.
Therefore, the configuration matrix acts as a set of instructions for every posting. Business users don't have to change any PI/PO mappings or ABAP coding. They can easily espouse the settings, handle new external systems and posting types by means of configuration settings.
Continous Regression Testing
Any solution/solutions where one element is re-used in multiple scenarios are usually more susceptible to unexpected actions. On the other hand, this is a real accelerator that allows the prompt response of business needs and the quick adoption of any IT solution.
After making a change in an Int4 Posting Template configuration for a designated scenario, it becomes apparent that there is a need to be sure that all other postings are working as expected.
For that purpose, Int4 Posting Templates is shipped with a limited version of Int4 IFTT. This enables each scenario to have its own set of automated test cases. With that in place, every change in configuration logic can be immediately tested for regression. This creates nearly if not a 100% confidence and trust for the business stakeholders
Canonical data model
One of the key factors in a single posting solution from multiple systems is the building of a common language and set of attributes that defines business operations and the expected impact on the financial system.
Such a common language is called a canonical data model. Depending on the situation, external systems should provide data in the agreed canonical format. Alternatively, the SAP PO mappings can handle the conversion from a system-dependent format into a shared data model.
Technical implementation
When all design details are in place, it is then the right time to begin the implementation. Int4 Posting Templates are delivered as a preconfigured set of ABAP classes and transactions.
It is much more effective when compared to a custom-built solution. Having in place a single solution for all business scenarios requires continuous regression testing. This is critical to achieving 100% data reliability. Our team uses a Test-Driven Development approach, which is supported by Int4 IFTT (which is an automated testing software delivered within the solution).
SAP Process Orchestration or other middleware is used for simple format transformations. All business rules are kept centrally in SAP S/4HANA. This makes for easy monitoring of the solution for functional teams.