The wish is the father to the thought
When I speak to many of my colleagues they often ask me: "Michał but how long would the PO migration take?". In order to answer that we need to ask ourselves a few important questions but when I thought a bit more about this I came to the conclusion that we may try to create a more generic calculator that can help in rough estimation on these types of projects.
Reading time: 3 minutes
Why should I use it?
You can use the calculator to do a rough estimate of any kind of SAP PO migration project:
SAP PI (dual stack, single stack) -> SAP PO 7.5 single stack
SAP PI, SAP PO -> SAP CPI
SAP middleware -> non SAP middleware

How to use it:
At first, we need to specify a few important things:
a) Time in days to govern existing SAP PO landscape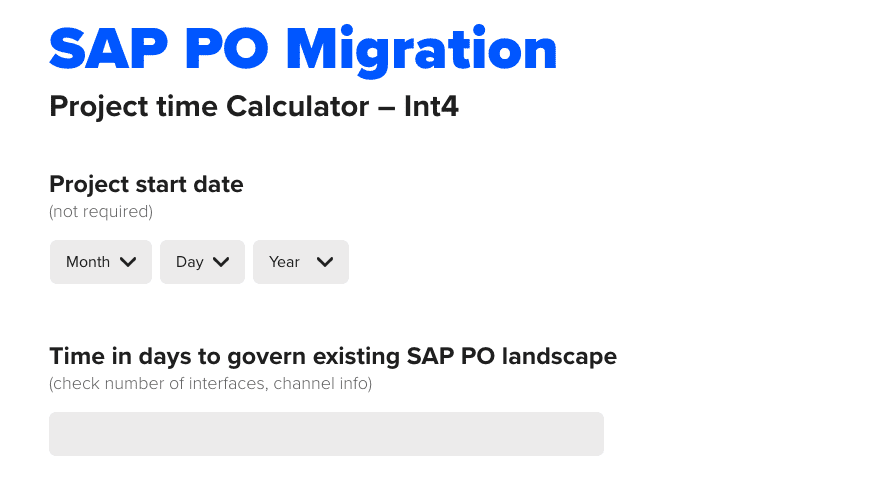 Time to find out everything about the existing landscape (how many interfaces, not used objects, number of channels, number of mappings which may need to be migrated – ABAP mappings, number of other objects which may need to be migrated – ccBPM)
Time for the basis team to create new passwords used in communication channels in case the existing ones are lost

b) Number of landscapes
Here you can specify the number of landscapes on which you will be doing the SAP PO migration testing. Let me give you an example, imagine you have 3 environments (DEV, TEST, PROD). You can put number 2 in this field as you will be doing the testing on two only.
c) A testing time for each landscape
This is not only the time it takes to retest the flows but the whole time between migration for one landscape and moving that to the next one. From our experience this is usually 3-5 weeks (15 to 25 days) if you do it manually – if you use any kind of test automation tools like Int4 IFTT this can be done in a single day.
d) Interfaces

Here you need to specify the number of interfaces (complex, medium, simple to migrate) and the time it takes to do that.
Result
The result will be shown in the number of days but also in the number of weeks (number of days/5). You need to understand that this number can be changed if you use more developers, more test automation tools, etc. but it should provide you with a rough estimate for your SAP PO migration project.
Check the calculator here:
SAP PO Migration - Project time Calculator - Int4